After Epic Games updated Fortnite on iOS to offer in-game currency directly through Epic at a discounted rate, thus skirting Apple's official in-app purchase system and violating the terms of the App Store, Apple yanked Fortnite down from sale and ever since an "epic" battle between the two tech giants has ensued. Epic's argument is that Apple's "walled garden" approach to software on the iOS platform creates a monopoly where other companies can't compete like they can on more open platforms, like Android or just personal computers in general.
They blatantly broke the App Store's rules with Fortnite as a form of protest and fully expected the game to be taken down, but a few days later Apple clapped back by threatening to not just continue keeping Fortnite off the App Store but actually terminating all of Epic's developer agreements and removing their access to iOS and Mac tools, thus potentially putting any game that uses Epic's popular Unreal Engine in harm's way. Epic quickly filed for an injunction against this due to the irreparable harm it would cause not just to their own business but to thousands of developers everywhere using Unreal on either iOS or Mac. Epic also tried arguing that a judge should force Apple to allow Fortnite back on the App Store complete with its new rule-breaking alternate payment method.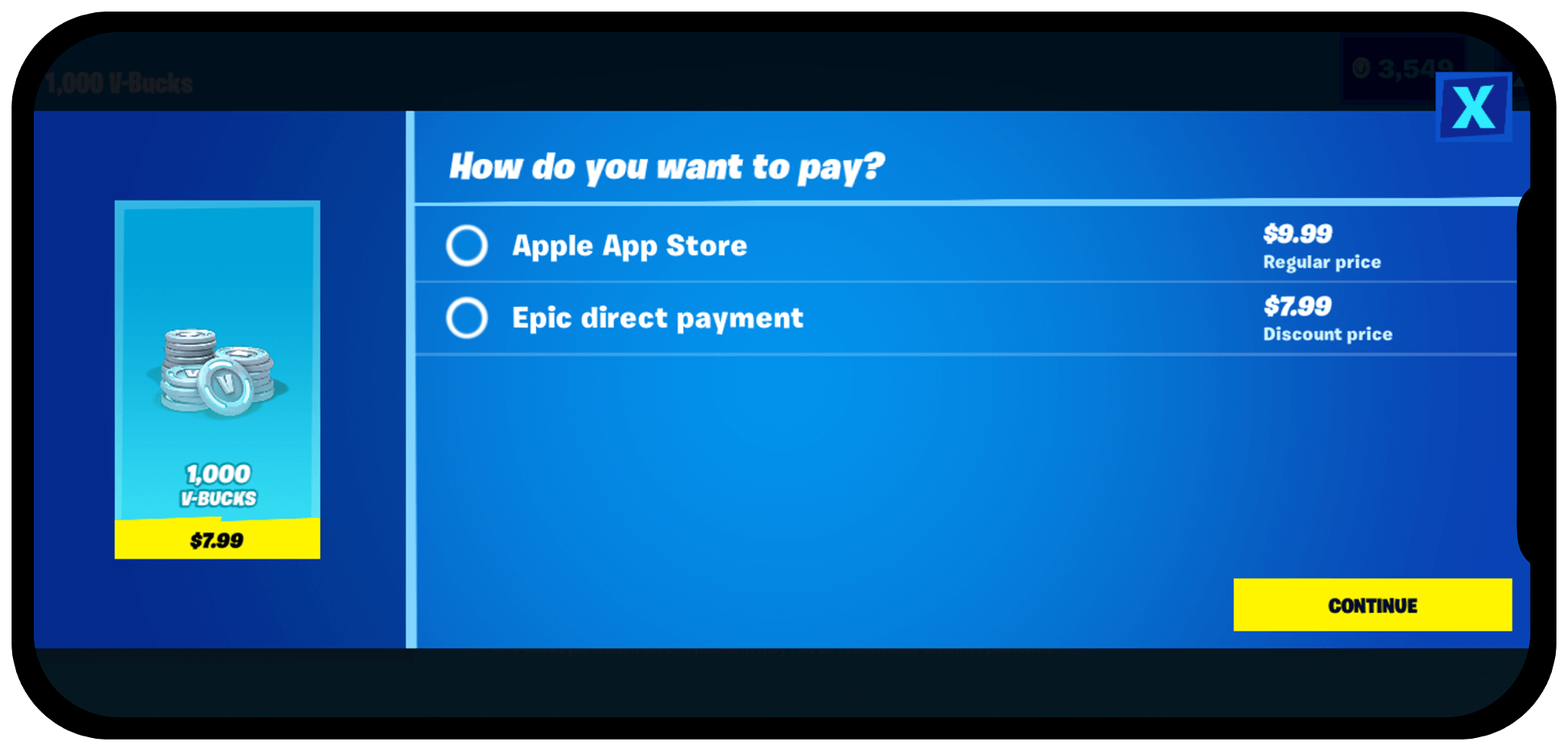 Well, the judge offered a ruling and it was pretty common sense stuff and doesn't heavily favor either side. They ruled that Apple does not have to allow Fortnite back onto the App Store because, again, it's directly violating rules that Epic has already agreed to when signing up to be an iOS developer. But the judge also ruled that Apple isn't allowed to completely cripple Epic's access to the tools that help them keep Unreal Engine up and running on iOS and Mac, because that could indirectly harm a ton of people who aren't even part of this whole squabble. Personally I think the judge got it right on the money in regards to what needed to be done in the short term, and if Epic wants to continue this fight in the long term they'll need to wait for their day in court with Apple.
However, today was the deadline for Epic to return Fortnite to the App Store without the alternate payment method or else see their developer agreement terminated, and it appears that Apple has followed through with that action. As of right now there is no Epic Games developer page in the App Store on iOS or Mac and any of the games that were published by them are no longer available to download. An awful side effect of all this is that this also affects any games published by Epic that you previously bought but don't have downloaded to your device currently, as you're also no longer able to download their games through your Purchase History. Major womp womp.
This means that if you wanted to re-download the Infinity Blade trilogy just for safe keeping, it's already too late to do that. And what about my Infinity Blade iMessage stickers! Dust in the wind. To be fair, Epic dropped the Infinity Blade series like a bad habit a couple of years ago entirely of their own accord, but it still sucks not being able to access such a major part of mobile gaming's history anymore. Hopefully mommy and daddy can make up sometime down the line and these games will be available to download again in the future, but with the way Epic and Apple have both been digging their heels in about the whole thing, I'm not holding my breath.
As for Fortnite, those who are playing on iOS and Mac (are there a lot of Fortnite players on Mac?) do not have access to the new Season 4 which just dropped yesterday, but for now they can still continue to play the game on those platforms with everyone else and everything should work fine. Let me stress the "for now" part of that since I don't imagine it'll remain that way for long, and if you're already finished with Season 3 then you're effectively done being able to progress in Fortnite anymore, on iOS and Mac at least. You can find out more details about what this all means as well as Epic's reasoning for picking this particular fight over on the #FreeFortnite FAQ page. We'll continue to keep tabs on how this drama unfolds as the Epic vs Apple fight continues.
Source: https://toucharcade.com/2020/08/28/apple-nukes-epic-games-from-the-app-store/