Week one of DreamHack Master Summer saw SpeCial, Has, and RiSky emerge as champions in their respective regions, earning spots at the Season Finals.
Now it's time to move on to the second week of matches, where Europe will conclude its group stage, the North American competition will kick off, and a champion will be crowned in China.
by Wax
Week two of Masters Europe will bring an end to the round-robin group stage, with all the participants playing their final four matches. As in week 1, all the matches will be played out over the course of several days (instead of a single group being played eache day), so we recommend you check out the full match schedule to find out when your favorite players will be in action.
It shouldn't surprise anyone that championship contenders Serral, Clem, and Reynor all have perfect records so far, going 3-0 in series and 6-0 in maps. Nor should it really surprise you that MaNa is also a part of this top-group of players with a perfect record, or that PtitiDrogo is also 3-0 with just a single map loss (6-1). We don't repeat the talking point about Europe's deep middle class because we're lazy (well, that's part of it)—it's because history has shown that there are plenty of solid EU players capable of going on a hot streak in any given tournament. Maybe we didn't specifically expect MaNa or PtitDrogo to start off this well, but it was inevitable that a few players would rise to the occasion.
Another player starting at 3-0 is Russian Zerg Vanya, who finally lived up to the hype of hipster fans like RotterdaM. The nineteen-year-old Russian Zerg is a relative newcomer to top-flight SC2, as this is only his second WCS/EPT Circuit event. However, he's been the #1 Russian player on Aligulac.com for quite some time, and his omission from the Russian Nation Wars squad in 2019 caused a furor within his regional scene. Anyway, we're glad RotterdaM got some much-needed good news, seeing as his stepson Goblin has gotten off to a rough start at 0-3 and no maps won (things will get better for Goblin, as he has the easier half of his matches coming in week 2).
ShoWTimE and HeroMarine both starting 2-1 isn't anything to look too deeply into—Serral is really the only player for whom a perfect record is a baseline expectation. The only top EU player I have potential concern about is Elazer, who went 1-2 with losses to MaNa and SortOf. With a match versus Reynor coming up, his playoff qualification chances are starting to look just slightly dicey. While there's a chance that a 3-4 record will get him through to the playoffs anyway, there's now in ordinate amount of early pressure on a player we pegged as a potential title contender and foil to Serral.
by Wax
Masters North America begins with a giant round-robin group stage similar to Europe, only in this case it will all be played out over the course of one week (June 30th-July 5th). Again, given the spread out nature of the matches, we recommend you check out the full match schedule to see when specific players will be in action. One match you might want to set an alarm for is Neeb vs Scarlett, which is currently scheduled to take place at/on Tuesday, Jun 30 8:00pm GMT (GMT+00:00).
Group A: In a bizarre twist of seeding, three of the most successful WCS NA Challenger players have been joined together in one group.
Though Neeb has won the last five WCS NA Challenger tournaments, I'm a bit wary of naming him the title favorite this early on. Things seemed to be going fine for Neeb up until late 2019, when he defeated Scarlett to win the lucrative WESG NA qualifier (a $10,000 prize) and took down uThermal to win Cheeseadelphia XI (for $4,000) not long after. But things went downhill for Neeb very quickly in 2020. He was eliminated from the IEM Katowice open bracket by SKillous and Bly, he failed to qualify for TSL5 (losing to Future in his last try), and has generally had little success in the various online events of the pandemic-era. The case for Neeb is that he's been a very clutch player in the past, and that the carrot of a $8,000 first-place prize will be enough motivation to bring him back into form.
If Neeb remains in his diminished state, it may be Scarlett's time to shine. Her recent all-kill of Team LP in the GTC playoffs is fresh in our minds, as she took down Patience, Impact, Jieshi, and Patience again to secure a win for Brave Star Gaming. While one might point out that those are fringe Code S players at best, they're still better than the majority of players in Masters America. As a RO16 player in the last season Code S, Scarlett is certainly a big fish in a small NA pond, and has a solid shot of winning the championship.
As for MaSa, he really hasn't done anything of note in the 2020-2021 season. However, you have to respect his history of success in North American regional tournaments, where he constantly places in the top four or higher, occasionally cheeses out Scarlett in a big match, and generally punches above his weight-class. Even though players like Future and Astrea have improved greatly and are performing better than MaSa in 2020, he could still be a threat to them in a high-pressure tournament setting.
Group B: In contrast to the established stars of Group A, two of the biggest up-and-comers from America have been sorted into Group B. Astrea already proved his mettle last year by placing 6th in WCS Winter: Americas, and now he's back with months of Korean training under his belt. Looking at his heroics in the Gold Series Team Champion regular season and recent qualification for Code S, his 2020 resume outshines most of the players in this tournament. A strong performance in Master America would confirm Astrea's place in the top tier of North American players.
Future is the other rising star from the USA, who's gone from disappointing feardragon being an intriguing prospect to possibly the best Terran in the region. In 2019, he made a jump by cracking the top four of two WCS America Challenger events, losing to Neeb both times. In 2020, Future got his revenge, defeating Neeb in the TSL5 qualifiers to claim the final main event spot. If he can defeat Neeb again, or take down any of the established stars in Masters North America, then we'll know that generation change has truly come to the region.
by: TheOneAboveU
If you thought the Latin America, Taiwan, and Oceania regionals were predictable… well, don't expect China to be very different. The alternate name of the league might as be "The Everyone Tries to Beat TIME Challenge." The wunderkind is China's stand out player by leaps and bounds, and he was the only player from the region to make a serious international impact in 2019. Though it's hard to see anyone challenging him for the championship, there might be a few players who could put up a respectable fight and establish themselves as potential contenders down the line.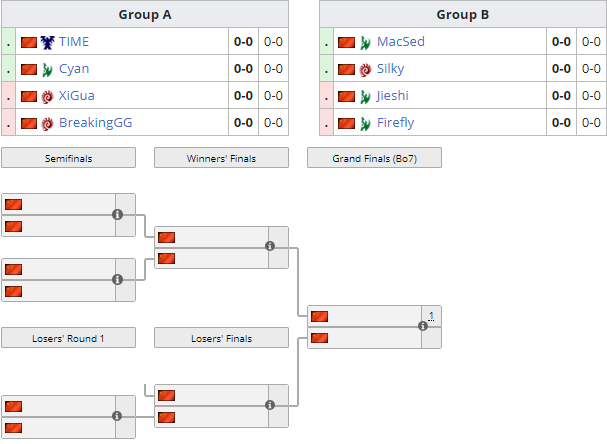 July 1-2: Group Stage
July 3-5: Playoffs
The Odds-on Favorite: TIME
For fans of foreign StarCraft, Time should require little introduction. In 2019, he finished 5th on the WCS Circuit and became the first Chinese player to ever compete in the WCS Global Finals (
Comm competed in the 2012 Battle.net World Championship). He used that opportunity to make a strong impression to the fans, defeating Maru 3-2 in their initial group stage match. While Maru went on to sweep TIME 3-0 in the rematch, that initial victory told us that TIME had a bright future ahead of him.
Stylistically, TIME is closer to Clem than to his KaiZi Gaming team mate INnoVation: he's a whirlwind of aggression, depending on his speed, multitasking, and micro to cut opponents down. This can be a double-edged sword, as he has a tendency to over-commit to harassment at times, sacrificing units wastefully against Koreans or strong foreigners who are more capable on defense. In the Chinese scene, however, not many can withstand the TIME's onslaught for long. Let's take a look at his head-to-head records against the other seven competitors in this event:
So, to reiterate, TIME is clearly the favorite to win this event and represent China in the Season Finals.
The Eternal One: XiGua
How many active players could tell stories about the time they faced Mvp in a Grand Finals? It's literally only Stephano, Bomber, and China's very own XiGua, who lost to the legendary Terran in the WCG finals in 2011 (throw in Kiwian and Nerchio if we're counting "semiactive" players). The Zerg player has truly been around forever, competing in WarCraft 3 in the 2000's (scoring a top 8 in finish in WCG 2006) before switching to StarCraft 2. Being 33 years old, he's the oldest player in this tournament. In the past, XiGua was been in the position TIME is in now, frequently representing the Chinese scene on the international stage.
You'd think he would have started to slow down years ago. But that's not XiGua. He's still representing Invictus Gaming in the GTC, and this season he took important wins off the likes of Bomber and Solar to help iG to their best ever finish in the league.
We really don't get to see Chinese Zerg players that often in international events, so their style is a bit of mystery. ZvZ tends to be hyper-aggressive style, perhaps behind the macro trends of other regions. ZvT and ZvP is closer to the norms around the world, but again with some cheesy and aggressive twists [Editor's note: soooo, NA?]. XiGua has been someone who definitely showcased this style internationally, but in general he seems to be more macro-oriented than some of his colleagues.
The Rising Star: Firefly
Having gained more recognition recently through the Chinese team leagues,
Firefly could be described as one of the new kids on the block. The Protoss made a huge splash in 2019 when he beat Maru in the CTC Grand Finals in front of a roaring Chinese crowd, and has continued to punch above his weight class ever since by sniping strong Korean players in various team competitions. While Firefly is not without a cheesy streak (like most Protoss players), he possesses very strong macro, and excels in longer games especially in PvP and PvZ. In the latter match-up, he's also known to play strategies like Disruptor drops with success, mixing things up to stay unpredictable as well as entertaining.
Firefly is one of the few Chinese players able to consistently pose a challenge to strong Koreans, but he is still very vulnerable to his countrymen. He hasn't reached the level of TIME yet, where he can cruise through brackets full of fellow Chinese players without many problems. There is also the issue of TIME himself, who has a 33-8 lead on Firefly in maps. So while the Protoss can beat anyone in this line-up, it's going to be extremely hard to win that Season Finals spot. For those who missed it, we also interviewed Firefly a few weeks ago, so if you want to know more about him, check that out as well. A warning, though: the man is oozing charisma, so you may become a fan instantly.
The Dark Horse: Silky
Not to be confused with American player Silky, who also plays Zerg, China's Silky has been one of the most active players of his country in international online tournaments. He's put up some surprisingly good results, such as in the TSL5 qualifiers where he came closest to qualifying out of all the non-TIME Chinese players. He also scored some wins in regional events, showing himself to be capable of beating the best of his countrymen. Silky has been flying under the radar since he's currently teamless, and the Chinese team leagues are where Chinese players have had the most chances to shine.
Silky has proven himself to be extremely dangerous in macro games, playing a counterattack-heavy ZvT style that not even a Terran player like TaeJa could withstand, so potentially Silky might be the one to pose the most danger to TIME. Case in point, Silky recently beat him in the ESL Open Cup Korea #24 in a Bo3.
The Old School Protoss Players: Cyan & MacSed
Both Cyan and MacSed have something in common with XiGua: once upon a time, they were some of the best players in the scene, a part of the small cabal that took all the qualifying spots for international events. As Chinese Protoss players, they have the reputation of being cheesy and tricky, but either the collective fan memory over-exaggerated that side of them in the past, or they became more 'honorable' in the meantime. The point is: both Cyan and MacSed are actually really good and solid macro players when they set their mind to it. And really, that shouldn't surprise us too much. If you're not Has, you can't survive on being tricky alone, and Cyan and MacSed have been consistent top rank players in the Chinese scene for many years now. There is solid substance behind their play.
Cyan was able to score some important wins for Brave Star Gaming in the running season of the GTC, even winning one of our Weekly MVP Awards for his performance, and MacSed was one of the few Chinese players to score a positive W/L ratio during the regular season. But will that be enough to overcome the tough competition here? It's hard to see them beat TIME on an average day. But on a below average day for the Terran? Absolutely.
The Hamburger Brother: BreakinGG
So far, BreakingGG's greatest victory over TIME has been stealing a hamburger from him once upon a time, thus gaining the nickname Hamburger Brother in the Chinese scene. In the game, things haven't gone in his favor very often when facing the Terran. Other players, however, the Alpha X Zerg can beat on a more consistent basis. While he's played for a few years, BKGG really only gained traction two years ago and since then has improved a lot, becoming a regular sight in the top 8 and top 4 of Chinese events. He's also won a TL.net Weekly MVP Award in GTC for pulling off a massive upset against Super, contributing an important point to an Alpha X victory that week.
Watching BKGG, you either get the feeling that you just watched someone pull off some real magic, or that you wasted some precious time of your life for nothing. There's not much room for a grey zone in this Zerg's play. He's a very aggressive player, preferring to seek an early decision to the match, and such builds work or they don't. Zerg isn't like Terran or Protoss in that they can relatively easily transition a failed all-in into a macro game. Clearly BKGG still has a lot to learn, especially in his decision making, which sometimes still betrays hesitation and costs him valuable seconds. BKGG is someone to look out for, though the time has probably not yet come for him to make a run to the Season Finals.
Patience Jr.: Jieshi
We know from Firefly that he communicates with his team mate PartinG quite often, but Firefly is very clearly his own man when it comes to his playstyle. We don't know if
Jieshi talks a lot to Patience, but looking at how he plays, you would be excused to think that they indeed do influence each other. And with 'each other', I mean that Jieshi takes Patience's borderline insane cheeses, and turns them up to eleven. Which, to be honest, is a pretty good way to win. What still hampers Jieshi is his execution of those strategies, and some decision-making issues.
There was this infamous game in GTC between Jieshi and Dream, which highlights that: Jieshi played an insanely quick proxy-Dark Templar rush on Golden Wall and kept his opponent in the dark really well, and more or less had the game in the bag, because Dream didn't suspect a thing. He had a single scan available, no other detection whatsoever. So the only way Jieshi could lose the game was to send all of his Dark Templars into one spot and let them die to a single mine. Which, naturally, he did. Jieshi has some really good ideas, but he just lacks the killer sense and mechanics to fully bring them to fruition.
---
Source: https://tl.net/forum/starcraft-2/560836-dh-masters-summer-week-2-preview