It's been nearly 3 years since Temple Gates Games, who brought us the wonderful digital adaptation of the award-winning Race for the Galaxy in 2017, had announced that they'd also be bringing that game's spiritual successor Roll for the Galaxy to digital platforms "soon." It's one of those things I probably would have just forgotten about or just figured was a dead project, but shame on me for being negative because just this past May Temple Gates reminded me that the project was in fact alive and well and looking for beta testers. Hmmm, beta testers. That usually means a game is preeettttyyyy close. And it was, as here we are three months later and Roll for the Galaxy is now available on iOS, Android, and Steam.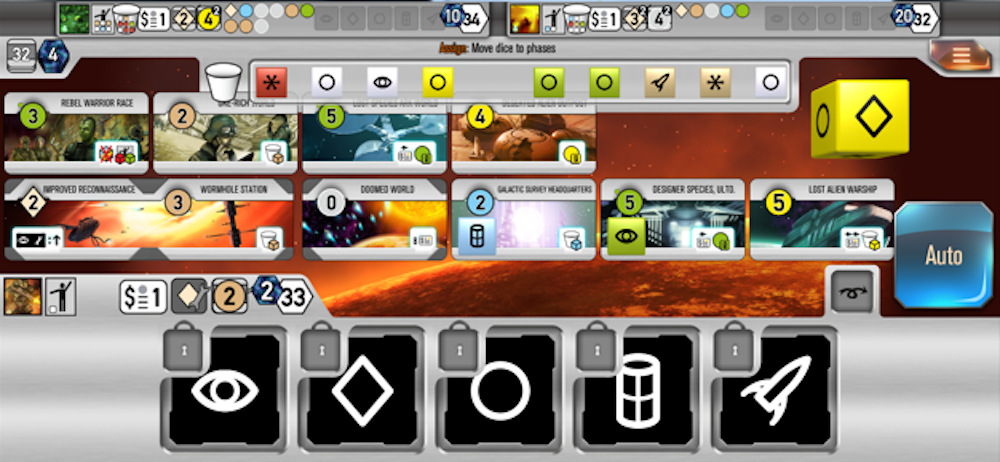 We've previously described Roll for the Galaxy as "a dice version of the popular Race for the Galaxy" and, while true, that doesn't mean a whole hill of beans if you aren't already familiar with Race for the Galaxy. In short, your goal is to create the largest and most prosperous empire in the galaxy by rolling dice, which act as your workers in your empire, and then utilizing them in one of five different phases each turn: Explore, Develop, Settle, Consume, and Produce. While this is in regards to the physical version of Roll for the Galaxy, this video from Youtuber The Board Game Vault is a nice and concise 3-minute overview of how the game works.
Roll for the Galaxy is a really clever game, and with the many pieces of its physical version you need to keep track of, it's also a great contender for a digital mobile version. Beyond just streamlining the experience this digital version of Roll for the Galaxy also includes 2-5 player online multiplayer in both asynchronous and real-time flavors, as well as the same excellent advanced neural network AI from Race for the Galaxy so you can have some smart competition even if you'd rather play solo. Roll for the Galaxy is also a fully premium game with no IAP, and while $9.99 feels steep in the mobile world, it's roughly 1/5th the price of the physical version so it's actually a pretty good deal.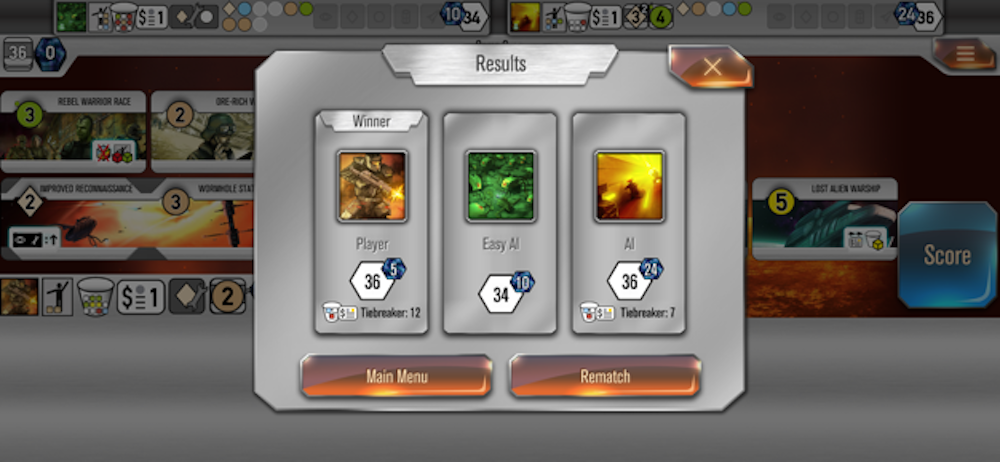 In addition to being on iOS Roll for the Galaxy is also available for Android on Google Play as well as for desktop on Steam, and the Steam version is currently 33% off for the next week in order to match the mobile version's pricing, so if you're planning on getting it on Steam anyway it's best to do it before the sale ends. There's already positive impressions rolling into our forums, so if you enjoy digital adaptations of board games or you were a fan of Race for the Galaxy a few years back then it appears that Temple Gates has done it again with their digital version of Roll for the Galaxy.
Source: https://toucharcade.com/2020/08/25/roll-for-the-galaxy-out-now/