Back in 2018, CD Projekt Red released Thronebreaker: The Witcher Tales ($9.99) on PC and eventually PS4 and Xbox One as the single player campaign component of its popular GWENT card game. For those unaware, GWENT is a minigame in The Witcher 3: Wild Hunt that garnered a ton of fans alongside that release and that led to a full game being built around it. I played a bit of Thronebreaker: The Witcher Tales on Xbox One when it arrived there and enjoyed my time with it but felt like it would be better experienced on Nintendo Switch. The game finally arrived on Nintendo Switch earlier this year and it is now on iOS with an Android release to follow later in the year.
Thronebreaker: The Witcher Tales has you taking on the role of Queen Meve who is the queen of Lyria and Rivia. As queen, you are immediately tasked with dealing with an invasion and are thrown directly into the action. The story is full of well written characters, superb voice acting, and choices you will make that have actual consequences. I already expected the story here to be great but this is one of the few games to actually get decision making down. If you do ever think you want to just experience this for the story and not be interrupted by battles and puzzles, you can always skip battles on the easy mode.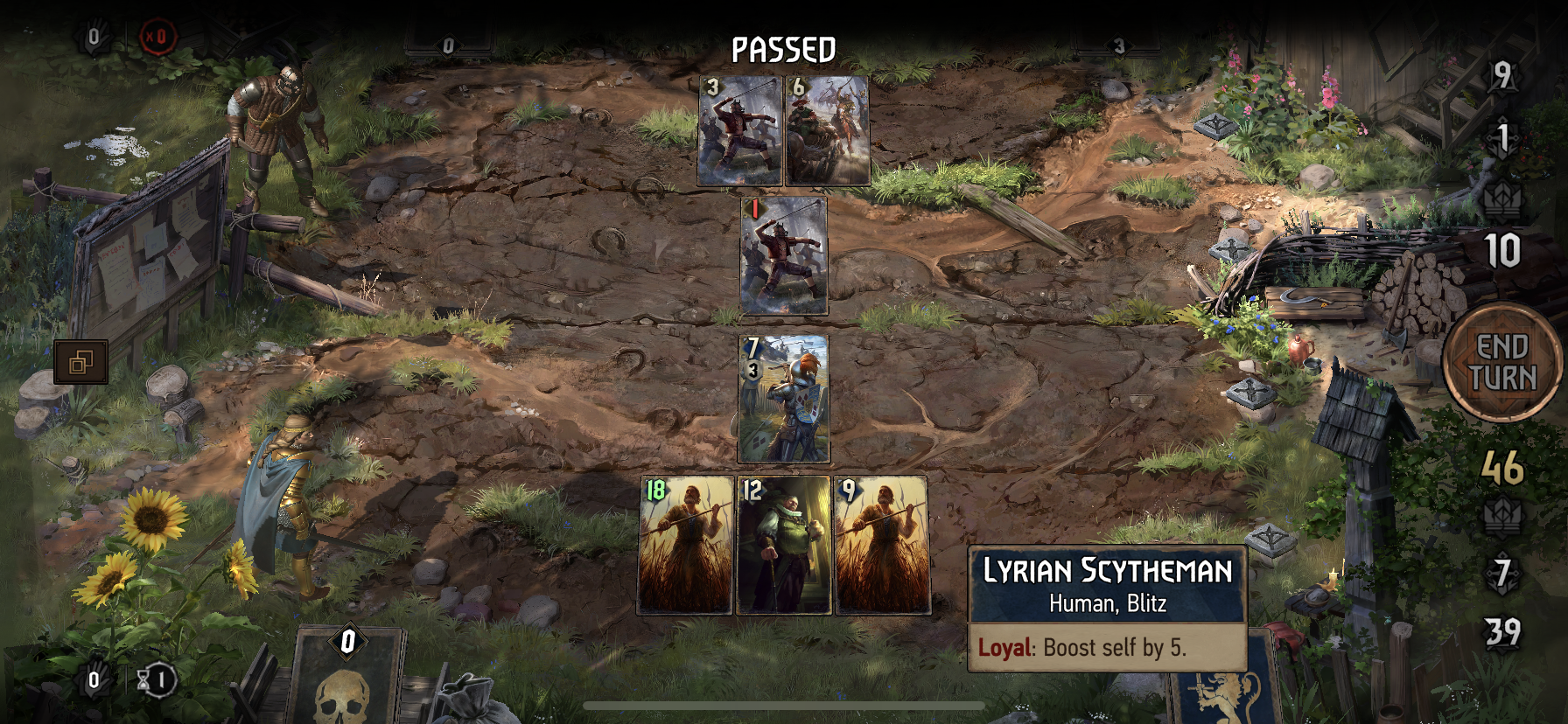 Adventure games are usually fairly short on mobile. Thronebreaker: The Witcher Tales on the other hand is around 28 to 30 hours long and can be shorter or longer depending on difficulty. Gwent veterans are better off on higher difficulties while people who aren't interested in Gwent can even opt for the lowest setting that lets you skip Gwent encounters. It is great to see accessibility options like this in long games.
The core gameplay in Thronebreaker: The Witcher Tales involves exploring, gathering resources, talking to people, and both puzzles and combat that involve Gwent. Resources can be gathered by tapping and holding when near a point of interest. There's also a camp menu that lets you upgrade, work on your deck, recruit, and more. I was very impressed by the locations you explore here. The tap and hold for gathering resources got tiring though. As an introduction to Gwent's mechanics, this does a decent job with explanations initially but it isn't great and you will need to spend time learning and practicing on your own. It doesn't help that the balance is very different across Thronebreaker (solo experience) and Gwent itself (multiplayer balance).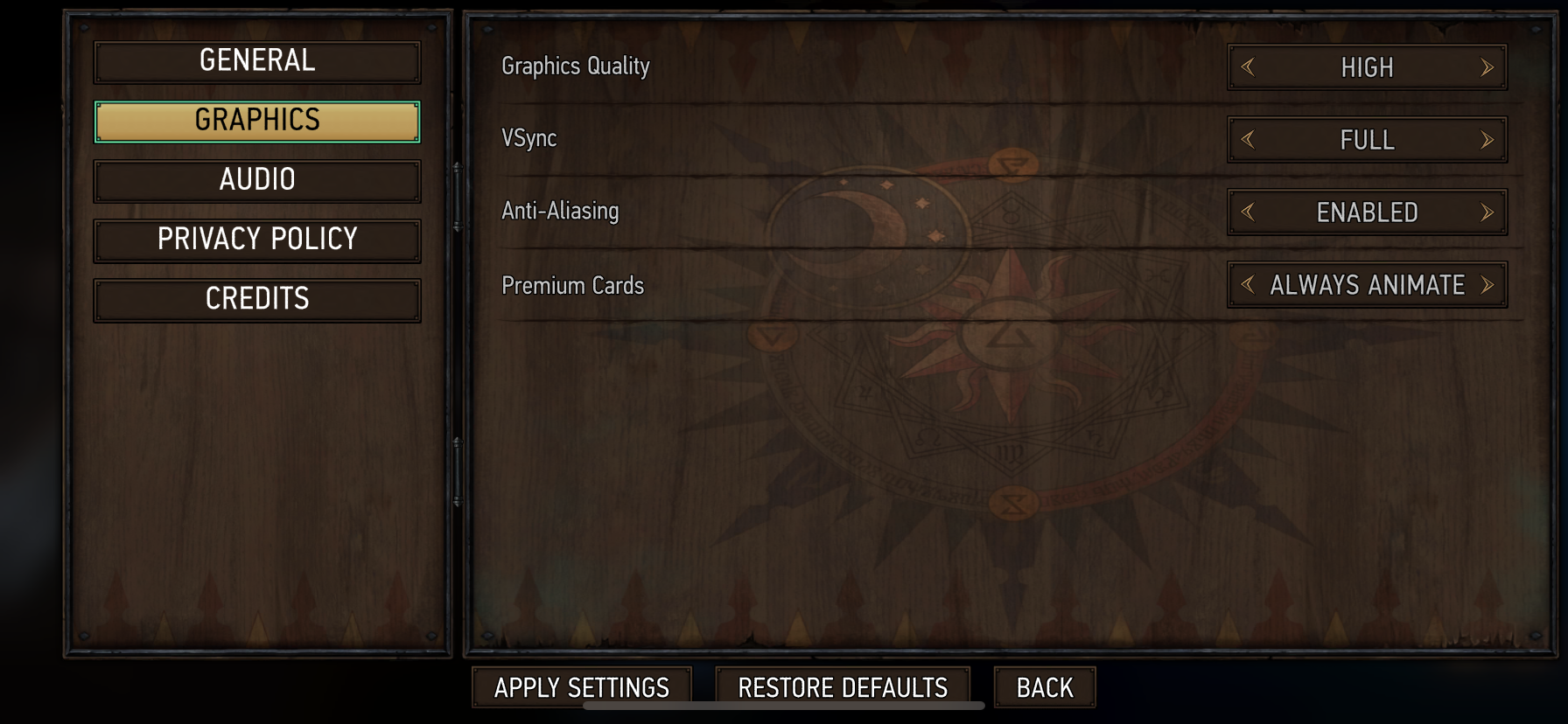 As with other reviews I've done for ports that are also on other systems, I've tried Thronebreaker: The Witcher Tales on Xbox One X and PC in addition to iOS to compare how the game fares across different hardware when it comes to visuals, performance, and control options.
When a game that is consoles and PC arrives on mobile, one would hope that all control options will be supported because mobile is almost as flexible as PC when it comes to inputs. Thronebreaker: The Witcher Tales has controller support on PC in addition to keyboard and mouse support. On iOS, it only has touch controls. I tried an Xbox One controller and a Steelseries Nimbus and had no luck with controller support. The touch controls work really well on iPad and almost as well on iPhone but controller support would've been good since the game already supports it on other systems. It is great to see haptic feedback supported though.
Being able to sync progress between PC and mobile through both GOG and Steam is something more games need to do but the implementation here leaves a lot to be desired. For GOG, once you sign in, you can sync progress but need to enter your password if you want to sync it again. For Steam, you need to login completely each time you want to sync which is very annoying. I thought this would be as seamless as syncing progress between PC and Nintendo Switch for The Witcher 3 but this is far from as well done.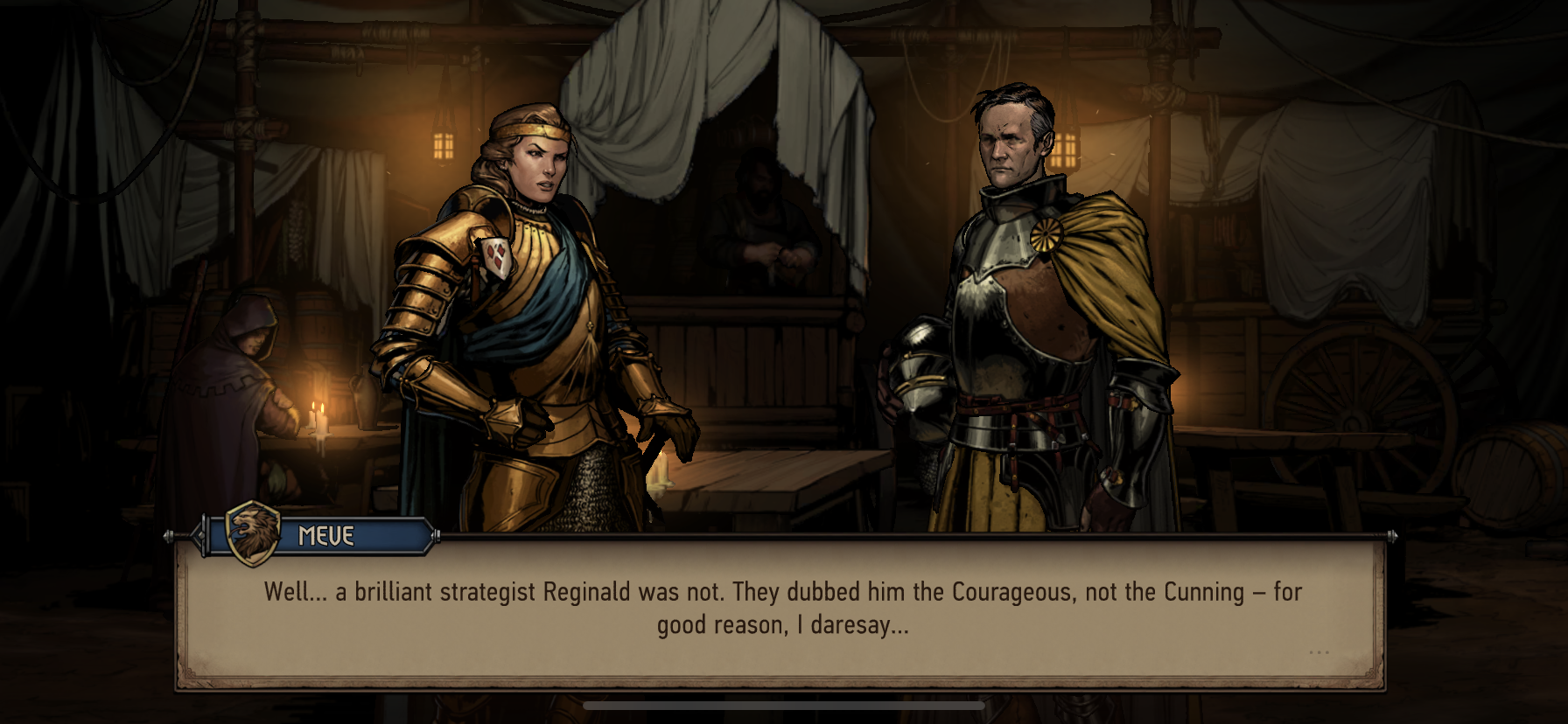 When it comes to visuals, Thronebreaker: The Witcher Tales has a very stylised look. It brings a combination of point and click movement in an isometric setting, visual novel styled segments, cutscenes, and of course Gwent. For a game that brings so many different visual perspectives, it nails the aesthetic. Everything from the interface to the actual card battles and movement look great on my iPhone 11. On iPad Air 2 and iPad Pro, I noticed some assets were much lower resolution than they should be. The loading screens that have cards displayed are noticeably blurry compared to the actual gameplay that is clean.
Performance has been erratic on iPad as well but I'm not surprised about this given the random frame drops I experienced with my time on Xbox One X where it targets 60fps. On iPhone 11 and the two iPads I played on, Thronebreaker: The Witcher Tales targets 30fps and mostly holds that. On iPhone 11, my experience has been just about perfect barring some interface elements being a bit too small. On an iPad where everything scales better, performance is less than ideal on both iPad Air 2 (expected) and the first generation iPad Pro (disappointing).
The game has a graphics options menu that you can play around with as well with options for graphics quality, vsync, anti aliasing, and animations for premium cards. This didn't help me at all with trying to make the game run smooth on the first generation iPad Pro.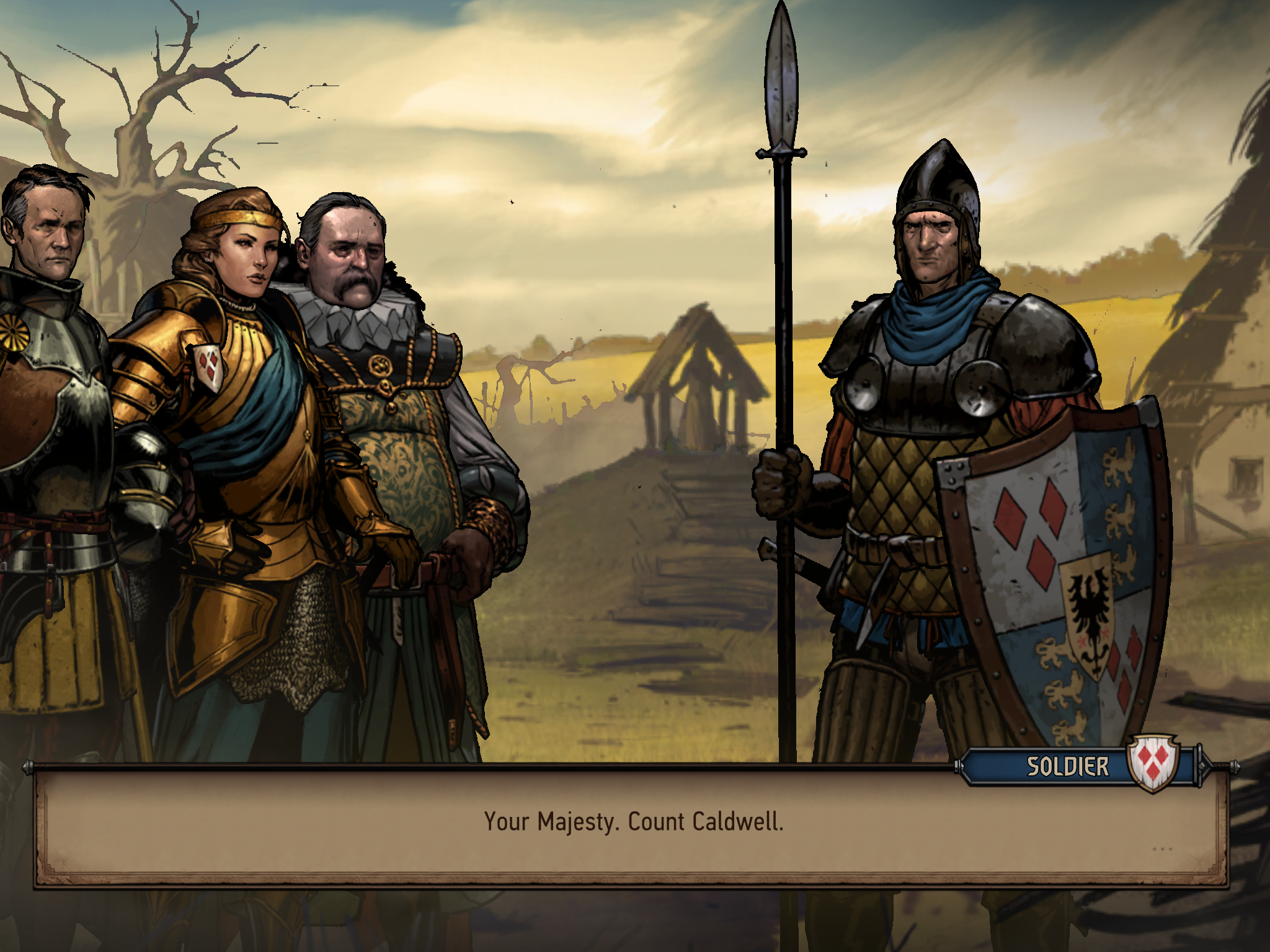 Thronebreaker: The Witcher Tales has excellent music and superb voice acting. The production values in this release are very high in general but the audio is brilliant across the board. This has more voice acting than many AAA games I've played. While there are some familiar tunes from The Witcher 3, the original score for Thronebreaker: The Witcher Tales is well worth a listen on its own as well. This is definitely on my list for the best soundtracks of the year on iOS.
In its current state, the biggest issues with Thronebreaker: The Witcher Tales on iOS are in its visuals and performance on my iPads, the non seamless cloud save support, and lack of controller support. Depending on how much those aspects impact your experience in games, your overall enjoyment in this excellent story might change. If you're just looking into this for a card game, I would recommend looking elsewhere though. Gwent is fun but this game is more about the story and the world than just Gwent. I also feel like newcomers to Gwent might have a hard time understanding the mechanics here without some trial and error that might feel annoying. Other card games do a better job with tutorials.
Overall, Thronebreaker: The Witcher Tales on iOS is an essential for any fans of The Witcher 3 and Gwent. If you don't like card games but enjoy the world of CD Projekt Red's Witcher the storytelling here will more than make up for that. You can even play on a lower difficulty to skip encounters if you just want to experience the story and world. The writing and story are strong enough to even make this worth it for those who don't know anything about The Witcher since this is a standalone experience. With a few fixes and improvements, the iOS version of Thronebreaker: The Witcher Tales can easily be the best way to play it.
Source: https://toucharcade.com/2020/07/23/thronebreaker-the-witcher-tales-review-ios-iphone-ipad-cd-projekt-red-cloud-save-touch/