1 Post
The second week of DreamHack Masters: Summer saw us crown another regional champion, as TIME emerged victorious in the Chinese region. However, he did not have the easy path to victory many fans expected, as he was knocked down to the losers bracket of the playoffs by Cyan. While TIME was able to come back and defeat Cyan 4-2 in the grand finals, it appears that the Chinese region might be more competitive than expected. TIME will join regional champions SpeCial, Has, and RiSky in the Summer Season Finals.
Week two also saw the group stages of the Europe and North America Masters tournament come to a close. Europe saw a couple of upsets occur in the group stages. In Group B, Poland's Gerald broke through from the middle of the pack, advancing ahead of ShaDoWn and Harstem. In Group D, Russian Zerg Vanya continued his rise by securing a playoff spot, while Elazer suffered first round elimination after coming out on the short end of a 3-4 tie.

North America's group stage mostly went chalk as well, with the exception of Silky who displaced WCS Circuit regular MaSa in advancing from Group A.

DreamHack Masters Summer will resume with the Europe and North America playoffs, which will be played between July 7th-12th.
---
DreamHack Masters: China
---
DreamHack Masters: Europe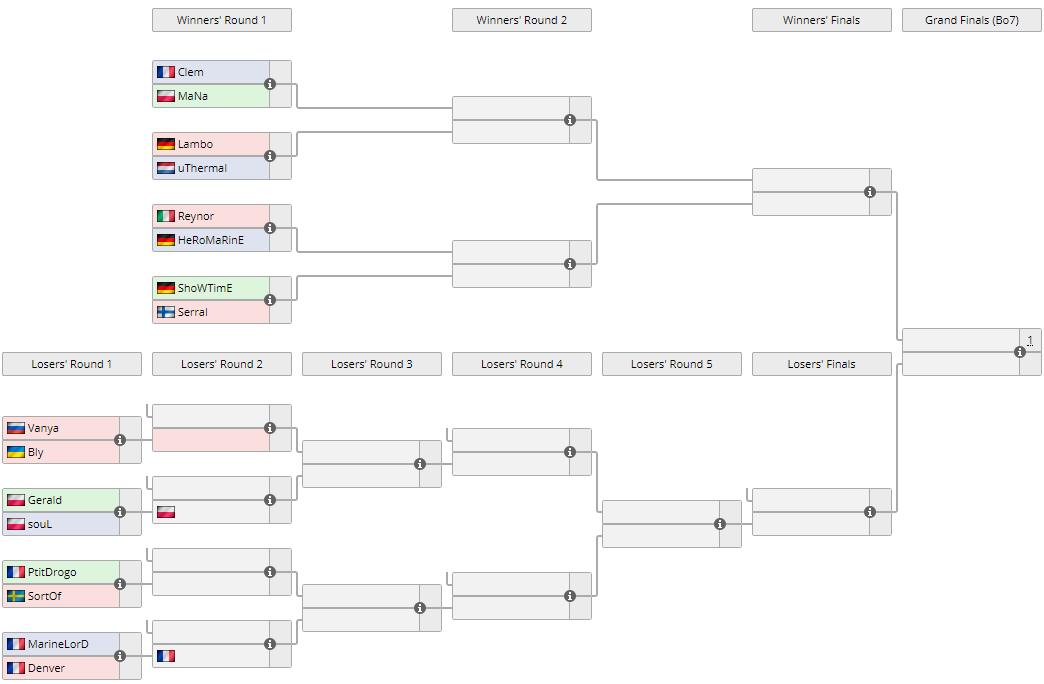 ---
DreamHack Masters: North America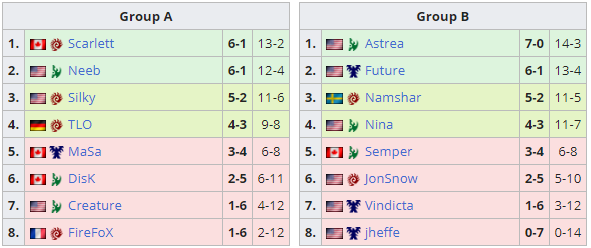 So excited…been seriously distracted from work with the amount of StarCraft happening…blessing and a curse.
Great brackets. This is going to be sick.
Go TIME! I watched him live at the AfreecaTV studios in 2017 playing against INno, wondering who this kid was.
Its lovely to reflect on how much his play has improved since then; almost even taking out Serral in that phenomenal series at Asus Rog in 2019. Hoping he continues to make headways into the future.
awesome brackets. I personally found the round robin phase a bit tedious but it gave us a fair amount of great games and I just can't wait for that elimination phase.
United States23735 Posts
always have had protoss bias but this time im rooting for clem, he's slowly just been getting better and better and I'd love to see a foreign T really rise up into contention for best T in the world

for NA I think it's gotta be Astrea's time to shine

and for CN I am surprised anyone was able to challenge time at all.
Even if Cyan's resistance must be praised, I feel like TIME is definetly in weaker form than in 2019.
Looking forward to the Serral vs Reynor rematch from TSL5 in winners round 2.

NA is going to be a sweet bracket with any of these players having a chance of winning.
On July 06 2020 23:27 stilt wrote:
Even if Cyan's resistance must be praised, I feel like TIME is definetly in weaker form than in 2019.
TIME is very much like dear, both of them are very unreliable depend on the day

On July 06 2020 23:27 stilt wrote:
Even if Cyan's resistance must be praised, I feel like TIME is definetly in weaker form than in 2019.
I don't agree with that, if you watch his games, he is much more solid and well rounded of a player than 2019. It's just that the sc2 world is familiar with his style now, and his timing attack trick is not working as well when people actively counter it. It shows on his KR ladder score too. He floats around 6400 last year and struggles to break past 6500, but now he stabilizes around 6600, and don't really drop below 6500. On the other hand, Cyan has been practicing like crazy for the past month for this event, and indeed he is leaps and bounds ahead of his 2019 self who just came out of a ban.
a Future win in NA would be sick, but my money would be on Scarlett for this one.
Also if that EU bracket gives us so many great matchups in the first rounds already, gonna be a sick playoff.
Watching Clem play was an absolute joy, he reminded me of Maru when he was beating everyone with pure multitask. The way Everytime an enemy made any move and he was already droping auto turrets and WM.
Cheering on Neeb for the win in NA as usual for me
EU is full of fan favorites I don't know who to support, but Clem and Mana are really stirring up a storm and it would be cool if either of them take it. But I'm sure Serral and Reynor have something to say about that, expecting some spicy games from the EU front!
Cheering for Astrea but it's gonna be tough with Neeb's PvP and Scarlett's shenanigans
Source: https://tl.net/forum/starcraft-2/561006-time-wins-masters-china-eu-and-na-playoffs-brackets