The idea behind the TouchArcade Game of the Week is that every Friday afternoon we post the one game that came out this week that we think is worth giving a special nod to. Now, before anyone goes over-thinking this, it doesn't necessarily mean our Game of the Week pick is the highest scoring game in a review, the game with the best graphics, or really any other quantifiable "best" thing. Instead, it's more just us picking out the single game out of the week's releases that we think is the most noteworthy, surprising, interesting, or really any other hard to describe quality that makes it worth having if you were just going to pick up one.
These picks might be controversial, and that's OK. If you disagree with what we've chosen, let's try to use the comments of these articles to have conversations about what game is your game of the week and why.
Without further ado…
Slay the Spire
This week brought the long-awaited mobile release of developer MegaCrit's critically acclaimed deck-building roguelike Slay the Spire ($9.99) to the App Store. It's kind of an odd situation really because, well, I can't think of another game that has had so many derivatives released on mobile in the time it has taken for it to come to mobile itself. If a mobile gamer wanted to scratch that Slay the Spire itch, there have been a number of ways to do that on mobile for the past couple of years. And I don't mean direct clones or copies either, and in fact most of the derivatives have brought something unique to the table themselves. I'm not knocking them at all. But it really took the official release of Slay the Spire this week to prove the old adage that there "ain't nothing like the real thing, baby."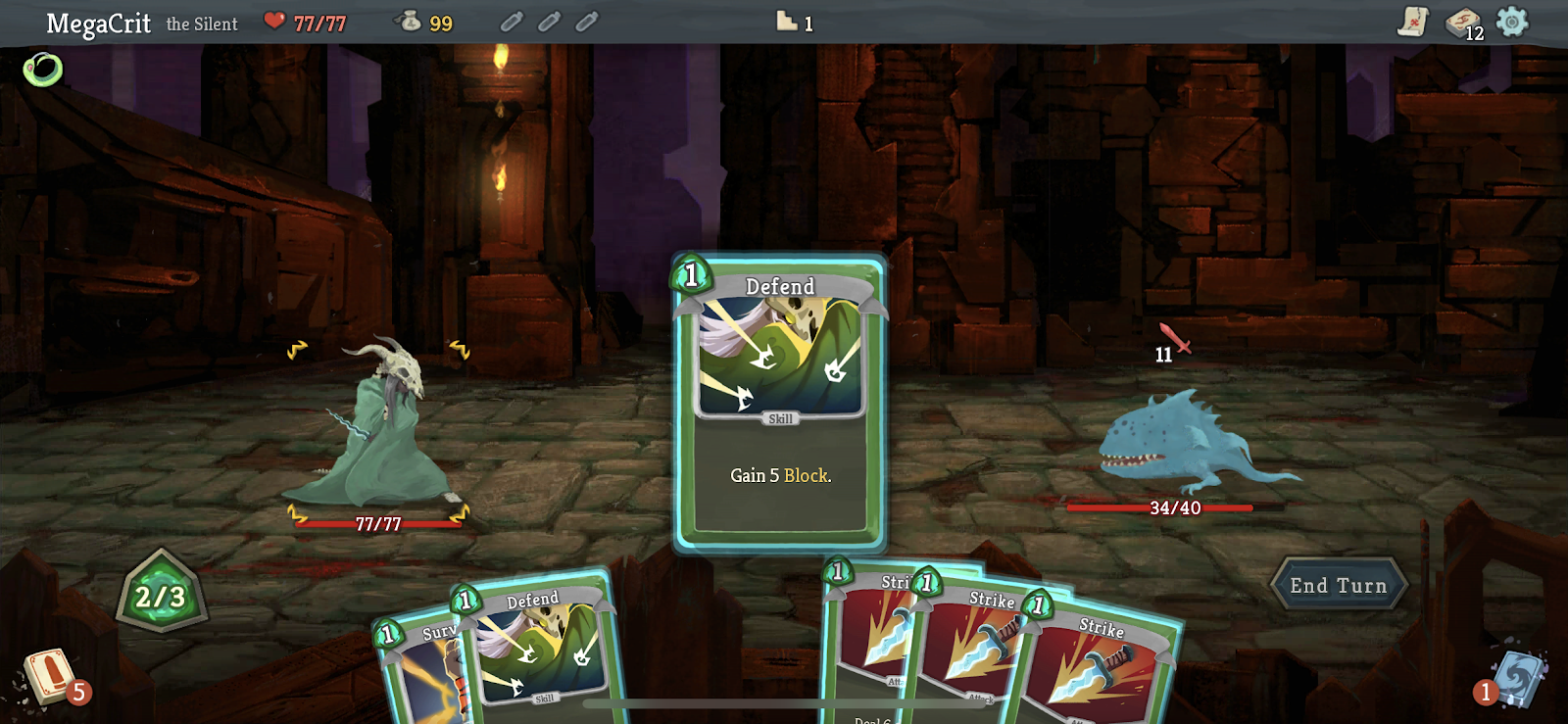 There's just something about the progression system, the different card types, and the overall style of Slay the Spire that's unmatched by any competitors. It has a secret sauce that no other games, as good as they may be, quite have, and that puts it in its own category in terms of deck-building roguelikes on mobile. The only issue I have here is that the transition to mobile has been a bumpy one. Text and UI is quite tiny on an iPhone, and some of the touchscreen controls for moving or accessing cards is clunky to say the least. There's also the lack of any sort of cloud saving that sticks out as a drawback, though the developers have confirmed that that feature will be coming.
We've pointed out these types of flaws in our review from earlier this week, and while it's a bit unfortunate, there's nothing that's really game-breaking or show-stopping here. And really, once Slay the Spire gets its hooks into you, you tend to sort of forget anything else going on in the world, including whatever minor annoyances are in this mobile version. So while ten bucks is a decent chunk of change to spend on a mobile game nowadays, the ability to tote Slay the Spire around in your pocket and bust it out at a moment's notice feels well worth that price even with the rough edges of this new mobile version.
Source: https://toucharcade.com/2020/06/19/toucharcade-game-of-the-week-slay-the-spire/